Delivering IoT safe city solutions
07 August 2020
The role of IoT in facilitating effective safe city solutions and supporting the work of the   emergency services is currently in sharp focus. Here we look at and assess the key drivers and strategies for successfully delivering smart sensing solutions from a public safety perspective.
At every level of government, public sector organisations require access to increasingly large and disparate datasets. These datasets can relate to critical infrastructure, operational systems and citizens. From the perspective of real-time data access and dissemination, IoT safe city solutions offer significant value for improving public safety, services and long-term planning. For example, law enforcement, crime, traffic information, CCTV and facial recognition data provide valuable insights once captured, integrated and fully analysed. Such insights help to meet rising demand for improving public safety with increased efficiency.
The use of machine learning and artificial intelligence can be useful for reducing the level of manual analyses required on big data, preventing information overload and enabling fully-automated responses, based exclusively on key or critical information related to a potential threat or incident. Ensuring mission-critical information is instantly presentable to the right people at the right time and at the right place, will enable appropriate field staff and control room operators alike to enhance their decision making. With such intelligence to hand, public safety officers can act effectively on keeping smart cities safe and benefiting our communities by efficiently improving public safety. 
How to deploy  
Recent developments in IoT have shown that effective smart and safe city solutions can typically comprise:
• Custom sensor devices deployed in the field and tailored to activate on certain triggers or thresholds, instantly alerting back-office or control room operator(s)
• IoT communications modules for relaying sensory information, for example, using NB-IoT or LTE Cat 1 or 4 for higher bandwidth applications – such modules are now widely available and represent important pieces of the jigsaw for creating devices
• IoT connectivity via an LTE network or low power local custom networks, as well as UNB (Ultra Narrow Band), LoRa, Sigfox, Zigbee and other systems.
An IoT platform is necessary for real-time data management but also enables data mining when 'playing back' stored data for subsequent analyses. This is typically implemented in software and serves to provide a bridge between the radio and IT worlds. Additionally, a back-end IT application is required for an end-to-end solution, for example, within a control room environment where operators go about their duties. This includes monitoring operational intelligence from smart city devices or analysing and acting upon real-time alerts, or possibly performing some kind of field device reconfiguration or commanding activity, for example.
IoT safe city solutions in action 
Ambulatory electrocardidiogram (ECG) monitors that record and transmit information from adult patients undergoing treatment to a hospital have now been developed and, having been approved by the Food and Drug Administration (FDA) in the USA, are currently being used in a third of all US hopsitals. This is for ambulances to better communicate with hospitals when a patient is being transferred to a health care setting and saves significant time in patient assessment on arrival if real-time data is coming from the ambulance in transit.
This new system obviously has to reliably transmit accurate readings of heart rate determination, R-wave detection, ECG filtering and arrhythmia recognition and this is done by incorporating multiple antennas, ensuring communication with patient-worn telemetry packs while en route. It means there is sufficient bandwidth to reliably monitor up to hundreds of patients at any given time.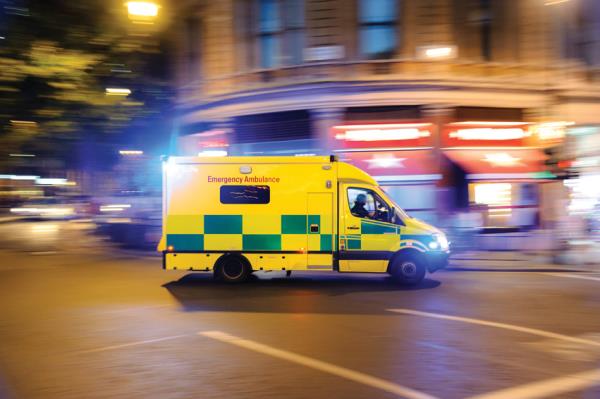 Fleet management and vehicle recovery for emergency services
Vehicle Asset Management (VAM) systems enable the efficient management of vehicular fleets in emergency services, as well as heavy equipment and machinery, and also monitor driver behaviour for application in other markets, e.g., insurance. This is done through the incorporation of Cellular & PMR modems and GPS modules, which both need antennas to function effectively.
For this, there is pressure to  reduce the size of such products so they can fit into often cramped conditions inside vehicles, which makes the development of antenna systems complex. To do this, the process takes account of the VAM placement inside the vehicle and the materials close to the unit, which may affect the performance of the antenna system. Using a custom-designed multiband-band cellular antenna integrated onto a PCB underlying layer, together with a custom GPS antenna, results in lower costs than equivalent COTS (Commercial off-the Shelf) antennas and enables integration into a tiny package. 
Embedded tracking devices can be employed for stolen vehicle recovery and have successfully been used by luxury brands such as Mercedes Benz, while pothole detection systems are used by Jaguar Land Rover via the Synaptiv system.
Police protection body armour 
Body armour can be damaged during training or actual operations, resulting in its inability to provide adequate impact protection and decrease personal safety. Another issue is that the damage to the ceramic plates in body armour often takes the form of hairline fractures which are only visible during X-ray analysis, which are costly if done routinely. 
The solution is an infield integrity monitoring and testing sensor which can also be used within the defence and security markets. These sensors are low size, weight, power and cost and have a low training burden for users. It is done via a micro-electromechanical system with fine-tuned accelerometer sensors which detect shock waves associated with the formation of cracks caused by impacts. They also have a five year operating life from just a slim coin cell battery. 
The solution also delivers the immediate status of the body armour to the user, removing the previous need for X-rays. It also means the user can rapidly assess the integrity of their body armour through status information presented as a simple, single screen graphic on a smartphone app, or by a press-to-test button showing a simple pass/fail via an LED indicator. 
Of course, there are many more examples of emerging IoT systems which are and will transform the smart city environment and the work of the emergency services to make us safer. It is also expected that these developments will not only reside in urbanisations but migrate out to more rural communities in the near future.
By Nick Koiza, head of security business, Plextek